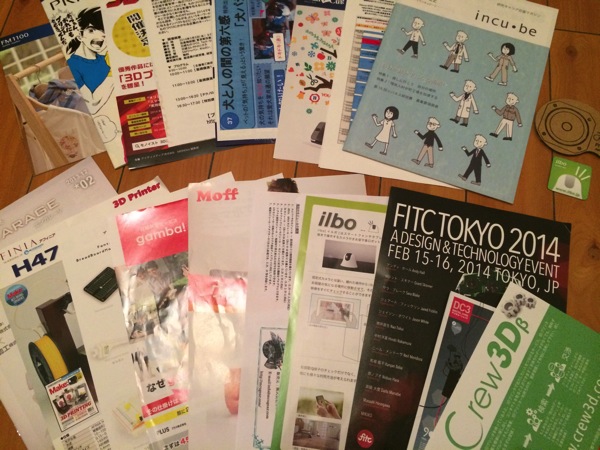 Good evening, this is Bono.
I went to the third annual Samurai Mono Festival and report on it.
What is Samurai Mono Festival?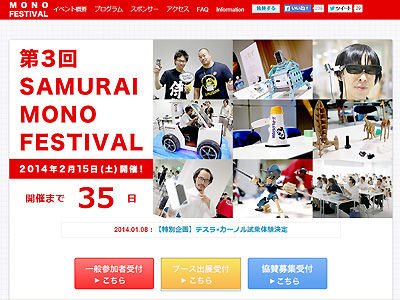 A startup festival by Samurai Startup Island to showcase and introduce gadgets and services centered on manufacturing and IT.
This is the third time I have participated in this event and the first time for myself. I was interested in this event when I saw a blog of someone reporting on the Internet before.
This year's event was held at the Telecom Center in Odaiba.
On the day of the event
Until you get to the venue
Frankly, it was the worst weather for an event. We had record snowfall for example.
After leaving Shizuoka, I had plenty of time to get to Tokyo on the Shinkansen and wondered if it would have any impact on me. But then the Yurikamome line came to a complete halt.
Knowing only that Odaiba = Yurikamome, I hurried to find an alternative means of transportation.
In the meantime, we discovered that we could get there by getting off at Tokyo Teleport on the Rinkai Line.
However, although it was nice to arrive, the snow was soaking wet and there was a line for the bus.
I decided to walk there, but by the time I got there, my shoes were a disaster. So I was exhausted when I arrived.
11:30 Arrival at the venue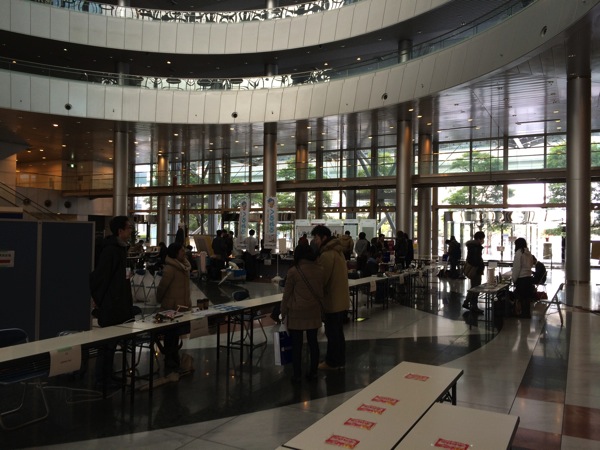 It was pretty deserted inside. Are they really doing it here? I felt like "Are they really doing it here?
Maybe it's because I've only been to big events in the past, but for an event with a capacity of 1,000 people, it's still a little sad.
They must think it is because of the snow.
We immediately spoke with Mr. Naganuma of Social Design, who has published a book titled "Work Design.
The content was quite interesting, and while the talk was calm and theoretical, it carried a powerful message of "empowering the individual.
He said that he is focusing on the business model of the future, and that this is the kind of service and product that will emerge in the future! I was quite convinced by his vision.
Suddenly, I'm glad I came.
12:30 Continue to listen to the lecture
Next up was a lineup of four people from the automotive industry titled The Future of the Automotive Industry.
The topics of concern continued to be automated driving and the effective use of big data.
He said the industry has seen a big wave of activity in the last year or so, and it will accelerate further this year.
Even the movement of windshield wipers can be used to predict the weather if information can be obtained from many cars.
Other uses, such as quality control, are also promising.
In automated driving, google is getting into the market quite seriously.
They say that google cars are well driven in Silicon Valley.
Technically, there are almost no barriers anymore, and the only remaining bottlenecks seem to be in terms of creating the mechanism and whether people are ready to accept it.
13:00 Further lectures to follow
Next up was a talk session on wearable devices.
A person who develops a children's toy called Moff, a person from NTT's development department, and a person who develops headgear were on the panel.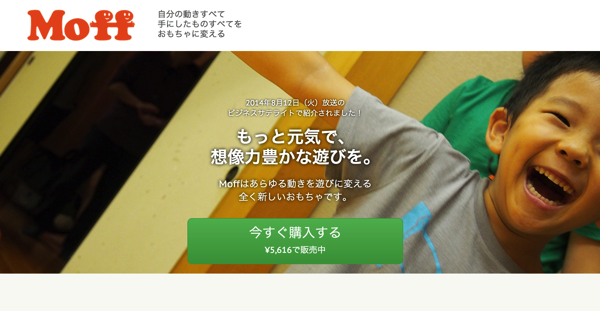 Attention was so high that some people were even standing in their seats.
What got you interested in wearables in the first place? I was impressed by his answer that he wanted to bring children back to the real world.
I saw him looking at his phone screen all the time and not interacting with his friends anymore, and I knew this was not good enough.
It's very exciting because you can do more than you can on the screen.
He said that by giving them a little extension to the sober reality, they will attract the children's interest.
Personally, I have always had a sense of urgency about children having smartphones, and I would like to see them do well.
13:30 Another talk session
Session called Crowdsourcing in Manufacturing for Large Companies.
Here's what happened when Panasonic and Lancers joined forces.
I saw Panasonic as being quite sensitive to the individual maker boom, whether it be PUX or this partnership.
What was impressive was that, surprisingly, there was no backlash from within the company, and that it could be a great promotion.
I would love to see you lead the industry.
14:00 Stroll to the exhibition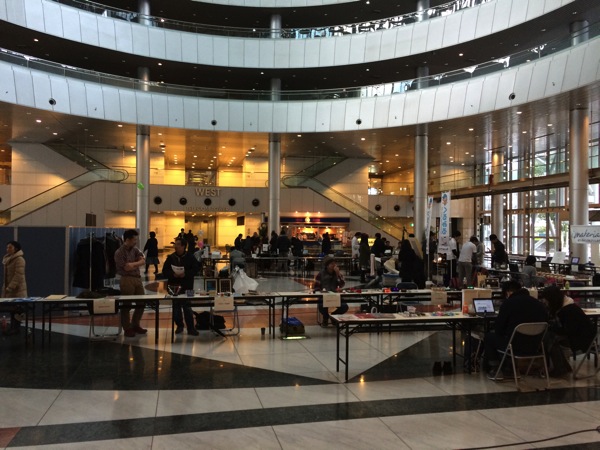 Below is a transplant combination of folk art & IT.
When a piece of folk art is placed on the tablet, the application runs in accordance with the character.
For example, for the doll in the middle, the map moves according to the position where it is placed, and the doll appears to move on the screen.
The map was from the Edo period (1603-1867). It was like going back in time. This is interesting.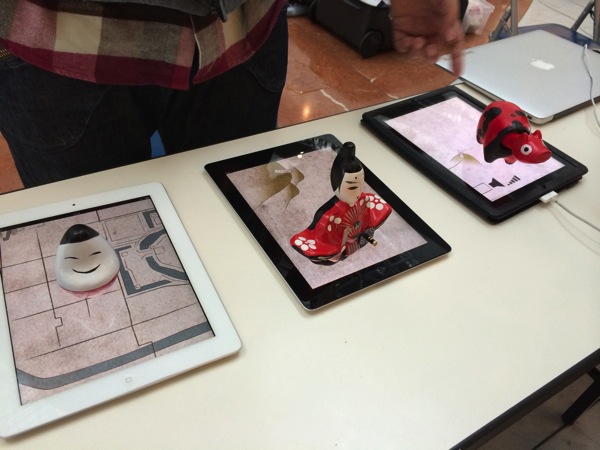 Below is a booth introducing a gadget and application called Kurumiru.
The system allows users to take a 360° angle photo of an object placed on a stand and upload it to the app.
For a moment, I thought, "Is that all there is to it? I thought, "That's it?" but when I actually saw the finished product, it was quite interesting.
It could have many uses, whether on a shopping site or a blog.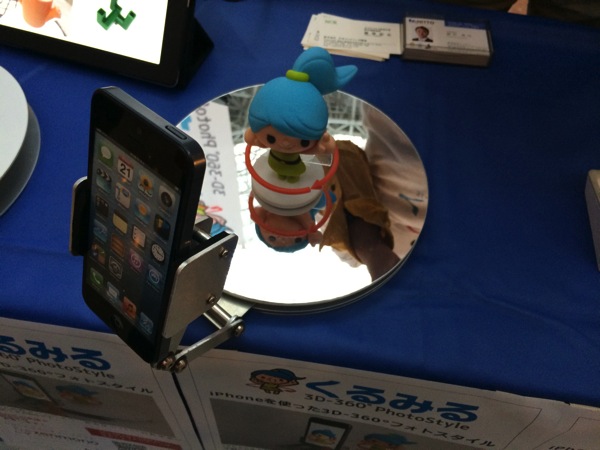 Another weird? gadget?
What a surprise, when you insert it into the earphone jack, the smell shoots out from there and you can enjoy it.
There is also a yakiniku set, which is quite stylish and interesting. The level of perfection is high and shows the seriousness of the restaurant.
Uses are, what is it?
It looks like Kayak is involved. The company really has a sense of humor.
Incidentally, the smell itself is created by shaking the liquid with ultrasonic waves and atomizing it.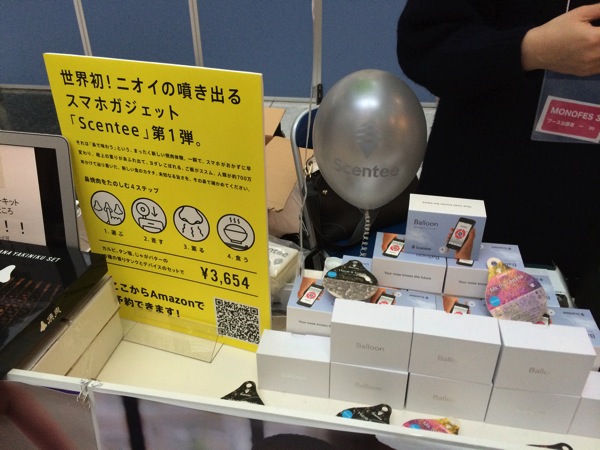 Cute breadboard. I want this one.
A sensor that can tell how a dog is feeling. I think I've seen something similar before, but I was surprised at how accurate it was.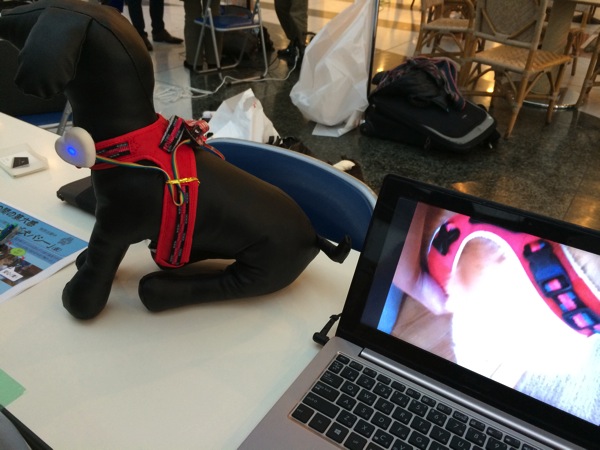 As an added bonus, a raspberry pie case. It's amazing but pretty gross.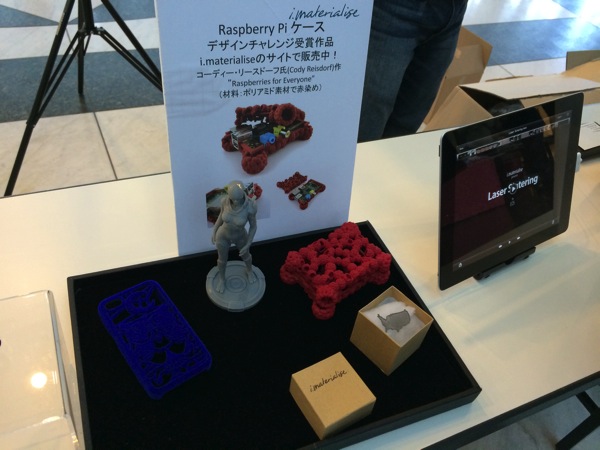 end
Individual makers have only just begun.
There will be a lot of activity this year, and I can't take my eyes off of it.