Good evening, this is Bono.
The cocktail cube that I applied for Gugen2016 was not selected, but I went to the venue in Akihabara to see the exhibition and selection process.
Here are some of the gadgets that caught my attention there.
Overall Atmosphere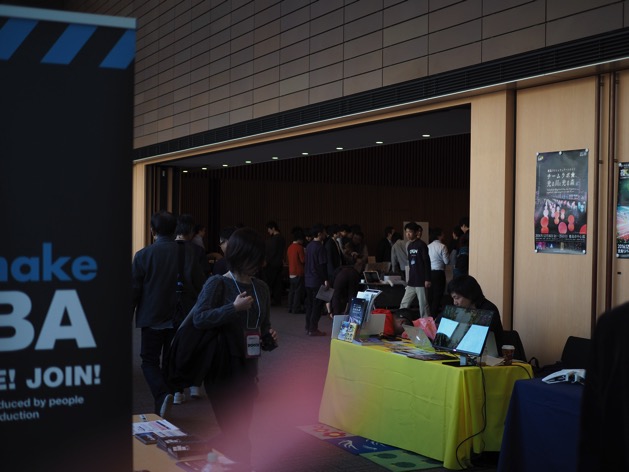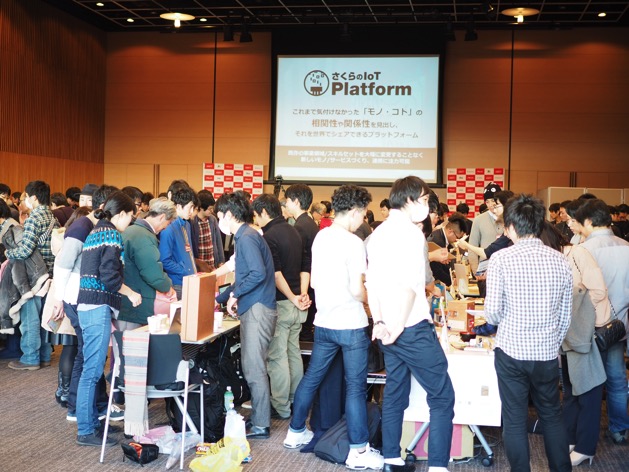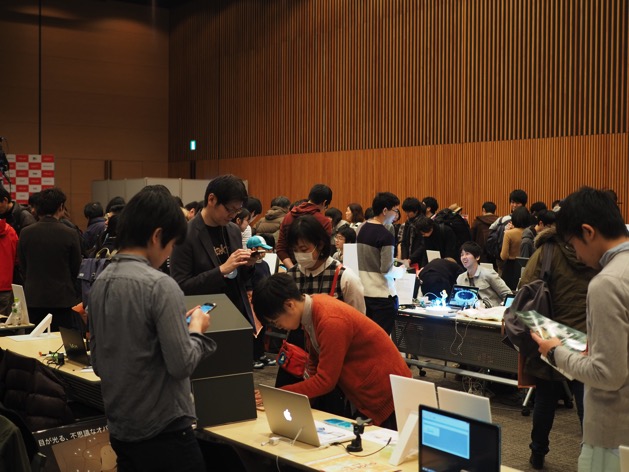 It was very vibrant.
There were usually one or two people listening to the explanations at every booth.
JIKKALARM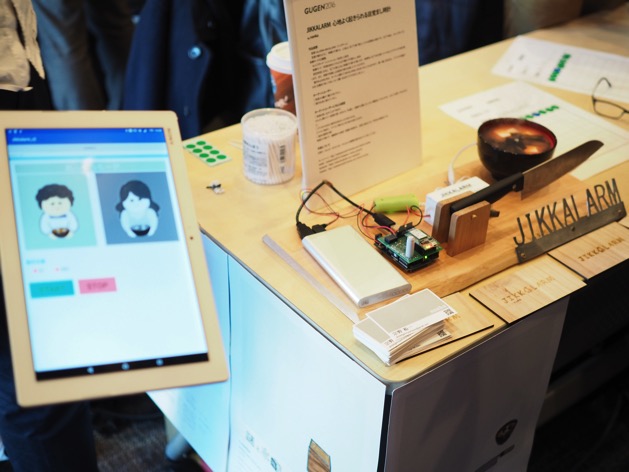 This is one of the products we saw at this year's Maker Faire Tokyo.
There were two additional functions, one in Okan mode and the other in New Wife mode lol.
A Mazeing!
Everyone has played this game before: roll a ball through a maze to reach the goal.
This is a modern version of it with various tricks added.
Since the sphere is metal, they use two metal rods to detect if it has come to a certain location.
Y-modify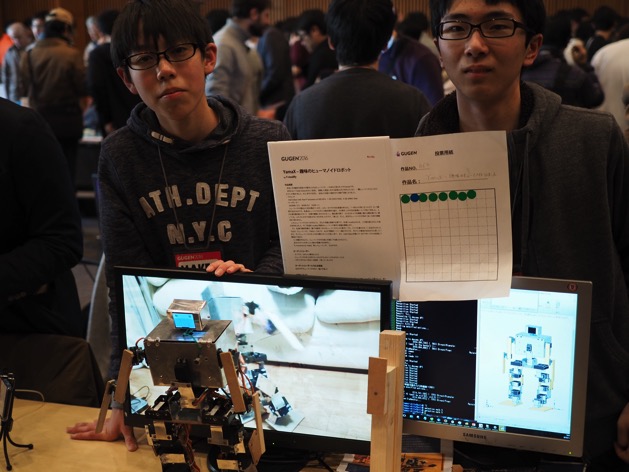 This robot can also dance the Soranbushi.
What a surprise! The creators were third-year junior high school students. They are very young and energetic, and I was very impressed.
Glowing Globe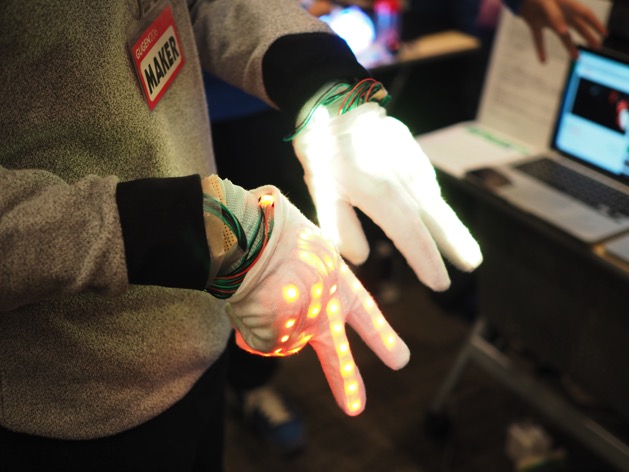 It was very cool to see it right in front of me.
I also liked the UI, which was created with OpenFrameworks.
It is a very niche but futuristic gadget that seems to have a problem that only dancers can understand: the need to control PV when improvising and dancing.
Plantan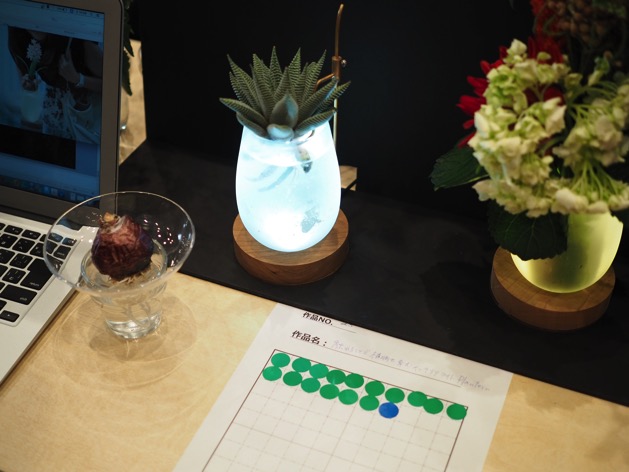 When you touch the plant, the lantern glows.
A metal ring is attached to a flowerpot, and when a plant is placed on it and touched, a touch sensor reacts to light up an LED.
It is simple, but it is excellent in design and fascinating.
swipe apron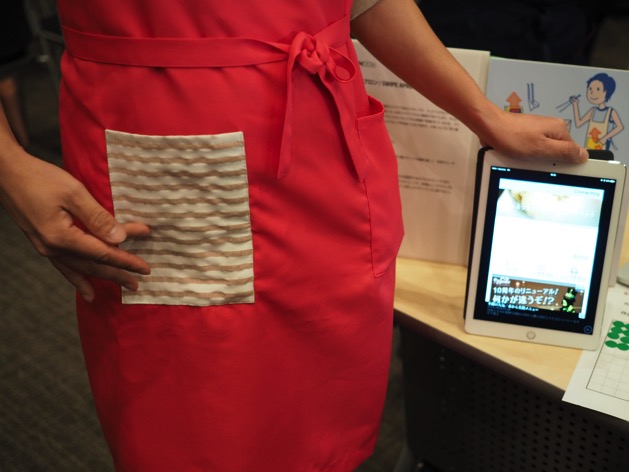 I got out!
This is the most popular swipe apron in the web poll.
I actually had a chance to swipe it and it looked and built very well.
The device has a number of copper wires running through it, and by touching the top of the wire with a finger, the movement of the finger is detected and transmitted to a smartphone via Bluetooth.
Cloud forecast on the desk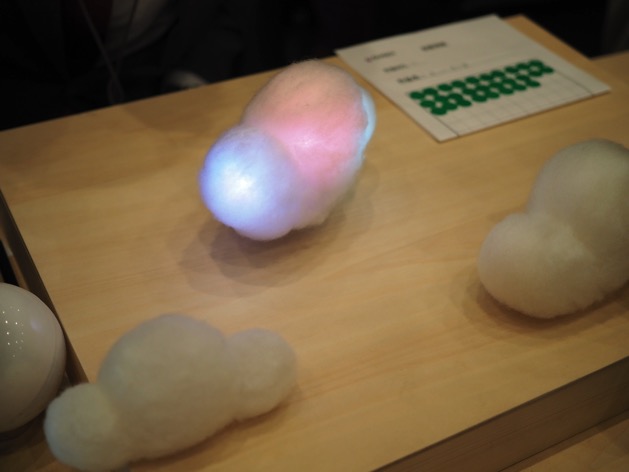 Personally, this was the item I wanted the most.
Depending on the day's weather conditions, the cloud will inform you of the weather conditions with LEDs.
Clouds actually float due to magnetic forces and look really cloud-like.
loop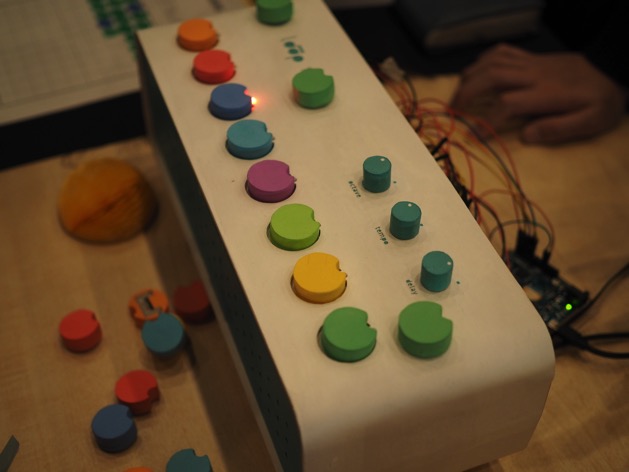 This synthesizer is designed for children to enjoy sounds easily.
The colorful building block part on top is removable, and they disassembled Little Bits and used IF as it is.
The exterior is made from a single piece of wood, processed with a laser cutter, which gives it a very warm feeling along with its cuteness.
Innovative IO Rod Nurenai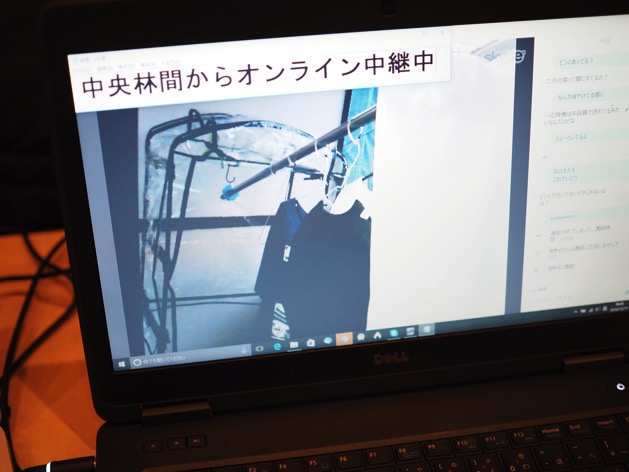 A gadget that automatically puts away laundry when it is about to rain.
This is also quite practical.
bioSync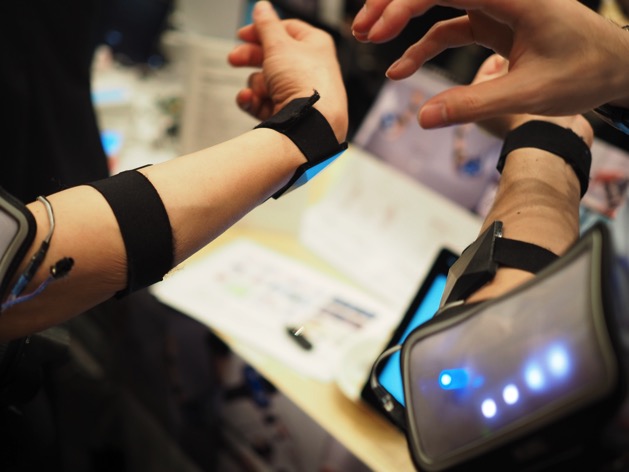 It may have been the most shocking gadget.
Two people wrap the gadget around their arms.
When one person bends his or her arm, the other person's arm moves of its own accord in the same way!
A sensor (myoelectric sensor?) The sensor (myoelectric sensor?) reads the movement of the arm and stimulates the muscles with electrical signals from one person's gadget to the other's. The gadget is then used to stimulate the muscles.
Although I did not experience it, I was reminded of how easily the body can move like this.