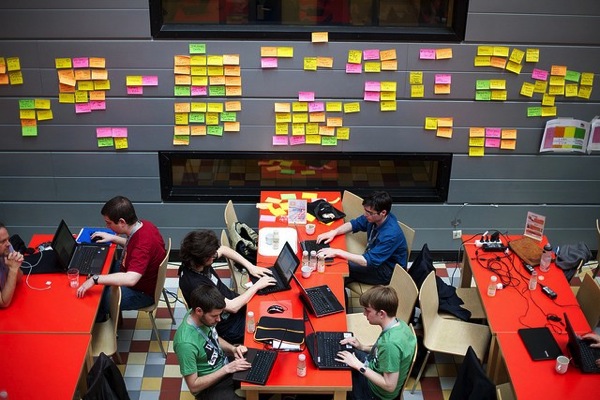 photo credit: Sebastiaan ter Burg via photopin cc
Good evening, this is Bono.
Today I went to a hackathon organized by Gugen, which is well known to those in the know.
This time, we report on it.
Who is Gugen?
Gugen is one of the few contests in Japan that focuses on hardware, with the concept of embodying the futuristic.
Gugen - Let's realize the "Futuristic Futuristic"!
As we wrote about in our article on the "Gugen2013" contest for realizing the futuristic "Gugen 2013," the works are all of a high level of perfection.
After all, the hardware industry is full of fierce competitors.
What is the Gugen Hackathon?
The Gugen hosted its first hackathon-style event.
The purpose of the project is as follows
Gugen Hackathon vol.1 "Creating the Teacher of the Future" - connpass
I looked through Google's IT calendar to see if there were any events in January and discovered this.
I was curious about Gugen because a judge named Okajima-san, who was a judge at the Mashup Camp I attended last July, had introduced Gugen to me at that time. So, I decided to participate in the event since it was a good opportunity.
Up to Event
This time, I did not have much time to prepare, only about an hour in total to think about it.
The theme was "Creating the Teacher of the Future," and I finished by writing down my dissatisfaction with education, which is now vaguely my own time.
No ideas in particular!
It's the most empty-handed I've ever been, but, well, that kind of participation is possible sometimes.
On the day of the event
12:45 Arrival at venue
Arrival of Kokuyo in Shinagawa! This year's event was held here in the exhibition space.
As an exhibition space, it was spacious and nicely decorated, and the presentation environment was well equipped with microphones and projectors.
When we arrived, there were only about seven or eight people. We were seated at an empty table.
I had some free time, so I chatted with Mr. Okajima for a bit. I told him about "Rechargeable Romance," and he reminded me of it. The content is a secret.
In the end there were maybe 25 of us?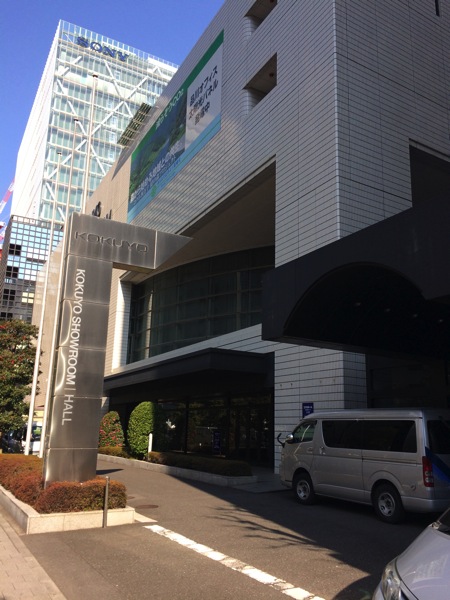 13:05 Explanation of purpose
Mr. Okajima explained the purpose of this hackathon. As expected, he was very familiar with the explanation.
The participants were tense and explained in a nonchalant manner.
I was doing a case study on Winkle and some other things.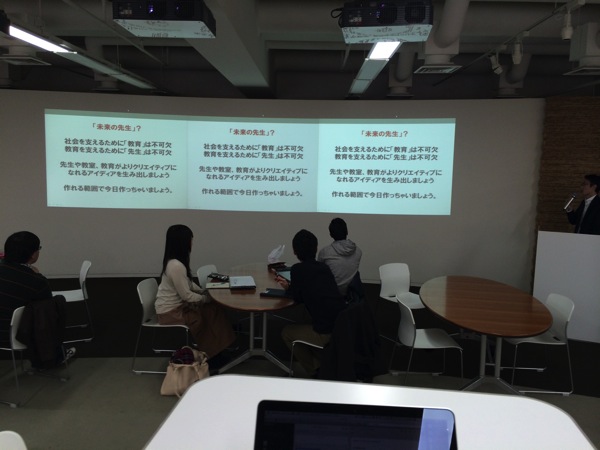 13:25 Self-introduction
Time for the customary self-introductions, one minute per person.
This time, I think we had more variety than ever before: hardware engineers, software engineers, designers, planners, students, NEETs, accountants? I think there was more variety than ever before.
He explained that he is a hardware store that makes printers, that this was his first of several hackathons, and that he had released a web service.
The person next to me also happened to be from Hurd.
14:00 Team Building
Here is team build time. While we were trying to decide who to team up with, two people who were "interested in hardware" joined us, and the four of us decided to proceed.
14:15 Idea generation
Each team was divided into teams to come up with ideas.
Everyone has their own thoughts when it comes to education, and concerns, dissatisfaction, and suggestions keep coming up one after the other.
The things that gradually emerged from the discussions were: It is not for the teacher to just give answers (the process is important) It is important to motivate students to do things voluntarily, not compulsively Just changing the "place" can motivate students Game elements that allow students to compete against each other are also important * Classes are necessary. A class is still necessary
The idea and philosophy of the company.
Up to this point, everyone, including myself, was in common agreement, and things went rather smoothly.
But then, what exactly are we going to do? We couldn't come to a consensus on that.
The mentor also helped, and after discussing various approaches, it appears that they do not want to learn the writing system of kanji characters or the stroke order, and that the need seems to be high.
Therefore, we crossed Kanji characters with the above principles and finally settled on the following two. A competitive game where students write Kanji characters in the correct stroke order (Kanji x AR x SimCity) (Kanji characters written by students are generated in AR and a city can be built)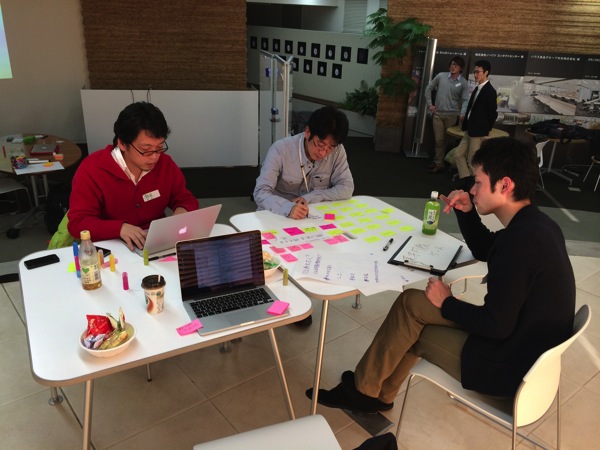 15:30 Interim presentation
After that, they had 5 minutes to make their presentations. The other teams were also interesting, each with their own originality.
I especially liked the team that presented a cute gadget based on the concept of "eliminating dropouts.
In addition to the content, the cartoon used in the presentation was cute and impactful.
In this kind of situation, it is necessary to have a technique to make an impact and "look like it".
In this sense, I think it is very good that you prepared cartoons and paper prototypes that can be created in a limited time and that can be easily imagined.
I should have noticed this in past hackathons, but I'm disappointed that I couldn't.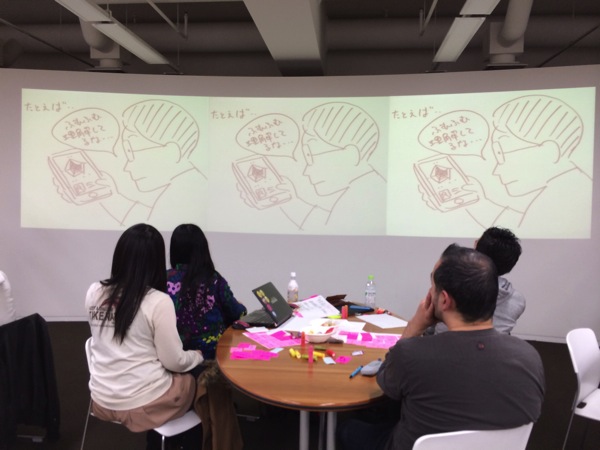 16:10 Re-team building + prototyping
In light of the announcement, we build again. One person left and three joined, making a large team of six.
Apparently, everyone is sweating because they are not good at Kanji characters.
So it looks like it can be brushed up even more. However, since the presentation will be made from 5:00 p.m., it is unlikely that anything significant will be made, even if it is a prototype.
At this point, Mr. Okajima asked the participants to think about "how to make people imagine the service in a short period of time.
And he laughed that skits are recommended.
Skits, now a staple at hackathons.
We, too, decided in the direction of a skit and devoted ourselves to creating the story and materials. We even practiced, and time flew by.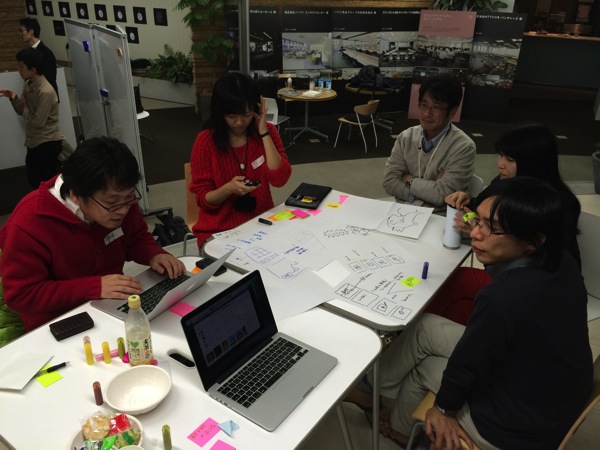 18:10 Final presentation
Then, for fun, it was time for a presentation over beer!
It is an indescribable luxury to be able to see the "full effort product of the day" that we and other teams have come up with while drinking.
Once you do it, it becomes a habit.
Presentation of all 5 teams. This also ended quickly.
Overall, the impression was that many of the gadgets were designed to promote "communication" between teachers and students or among students.
After all, school is a place to learn how to communicate with others, isn't it?
This seems to be universal now and in the future. I got a lot of other good ideas, so I think I'll let it warm up a bit.
That's done for now.
The first hackathon of the year is over.
This year I want to do my best and go abroad for contests!